Last Monday through Saturday I was on the GT for what was a 2,200 mile round trip, riding from my house near Grand Rapids, MI to Salem, MA and back. I had just finished a great book on historic American architecture and there's a large concentration of 17th & 18th century examples in Salem; really it was just an excuse for a road trip.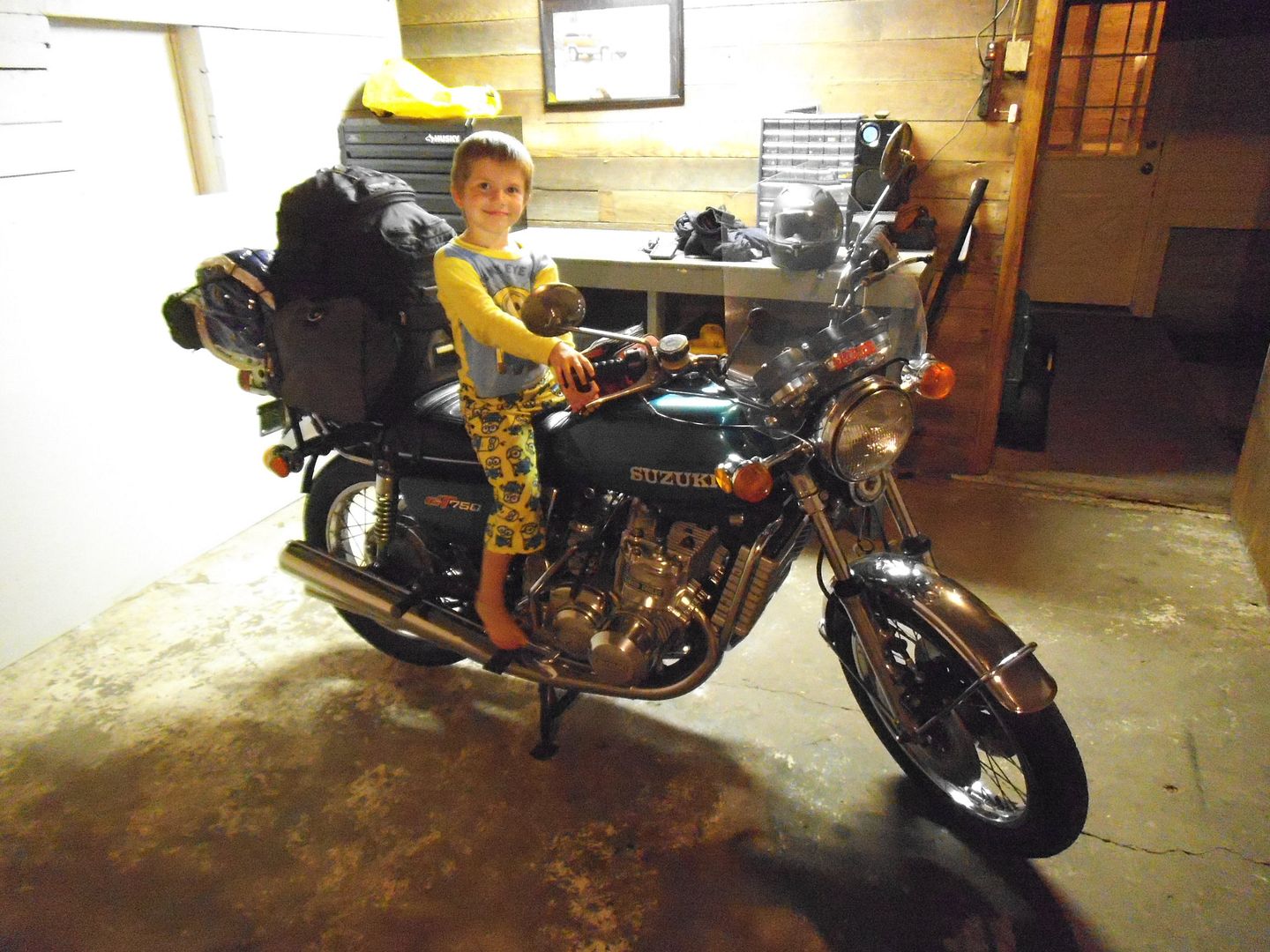 This is my son Connor Monday morning. He was adamant he was coming but unfortunately I said he'd have to wait a few years. I wish I could have taken him along though and did miss my wife & 2 boys while on the road.
This is the Gypsy Wagon in Corning, NY at roughly the halfway point. It was after dark when I pulled in and on a Monday night the campground was nearly empty. It felt a bit eerie and a stray cat even came and clawed at the door. There was no lock so I rigged the cabin door shut with a tie down. No 'wild animals' were gonna get to me.
A look inside.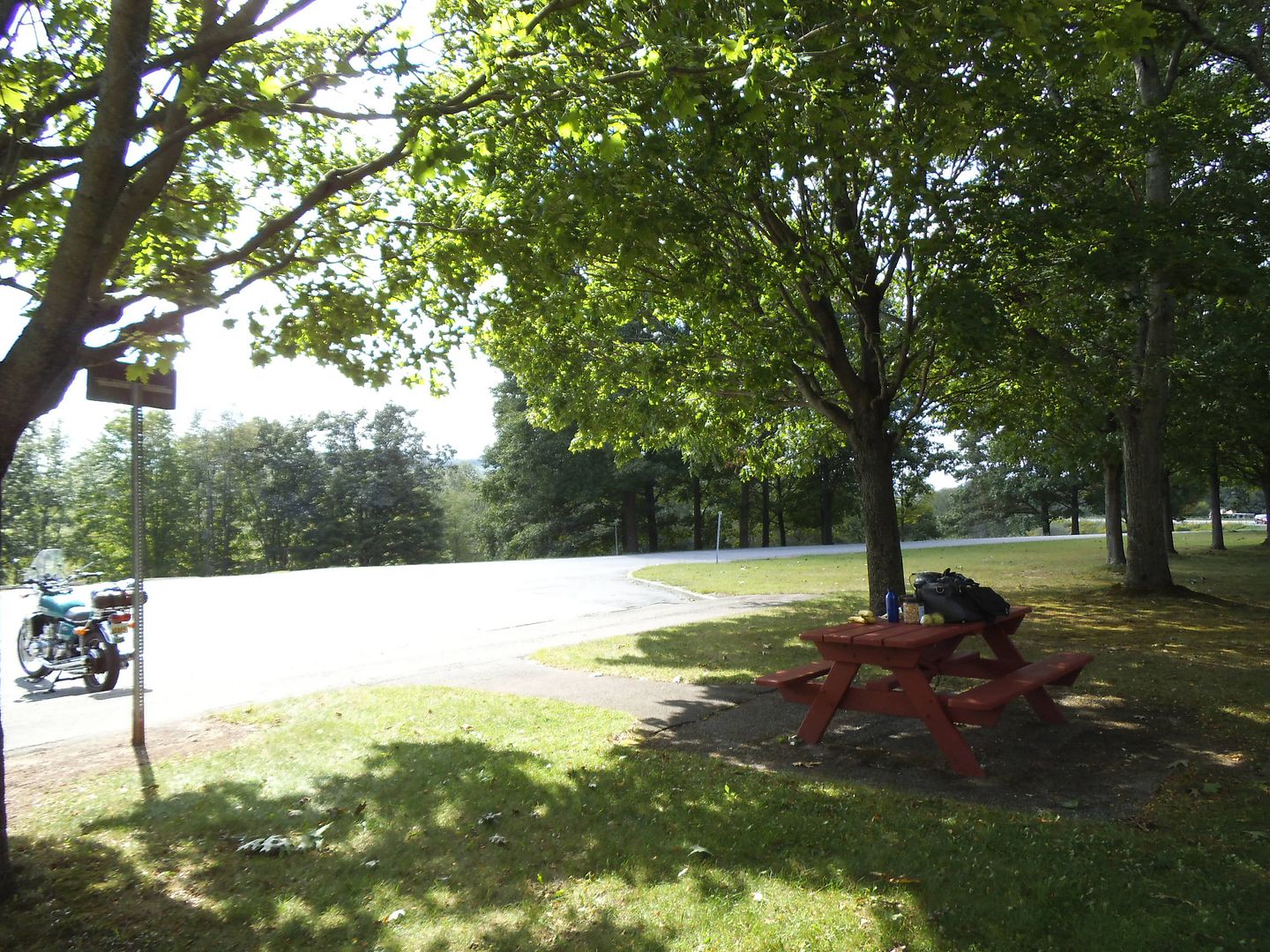 I tend to ride as far as the GT will go between fuel stops and leave my gear on while refilling to get back on the road sooner. Every 3 or so stops though I take a break to eat, check fluids & stretch my legs. It may not look it but this rest stop was the perfect break along the way. A wooded picnic site all to myself, nice mountain views, great temperature & a gentle breeze.
After noticing some excessive vibration I had the old chain replaced somewhere in eastern NY, and the slowdown meant I arrived at my next & final destination after dark, again. I struggled to pitch a borrowed hiking tent in strong winds and on rocky ground. After the whole ordeal I was glad to just climb into my sleeping bag and go to sleep. When I awoke the next morning the views were nothing short of amazing, and sort of made the night before all worth it. Winter Island is a public park on the Atlantic Ocean connected to downtown Salem by a roadway and has an 18th century fort, great beach, and a few campsites for just $35/night. I still can't believe that sort of place exists.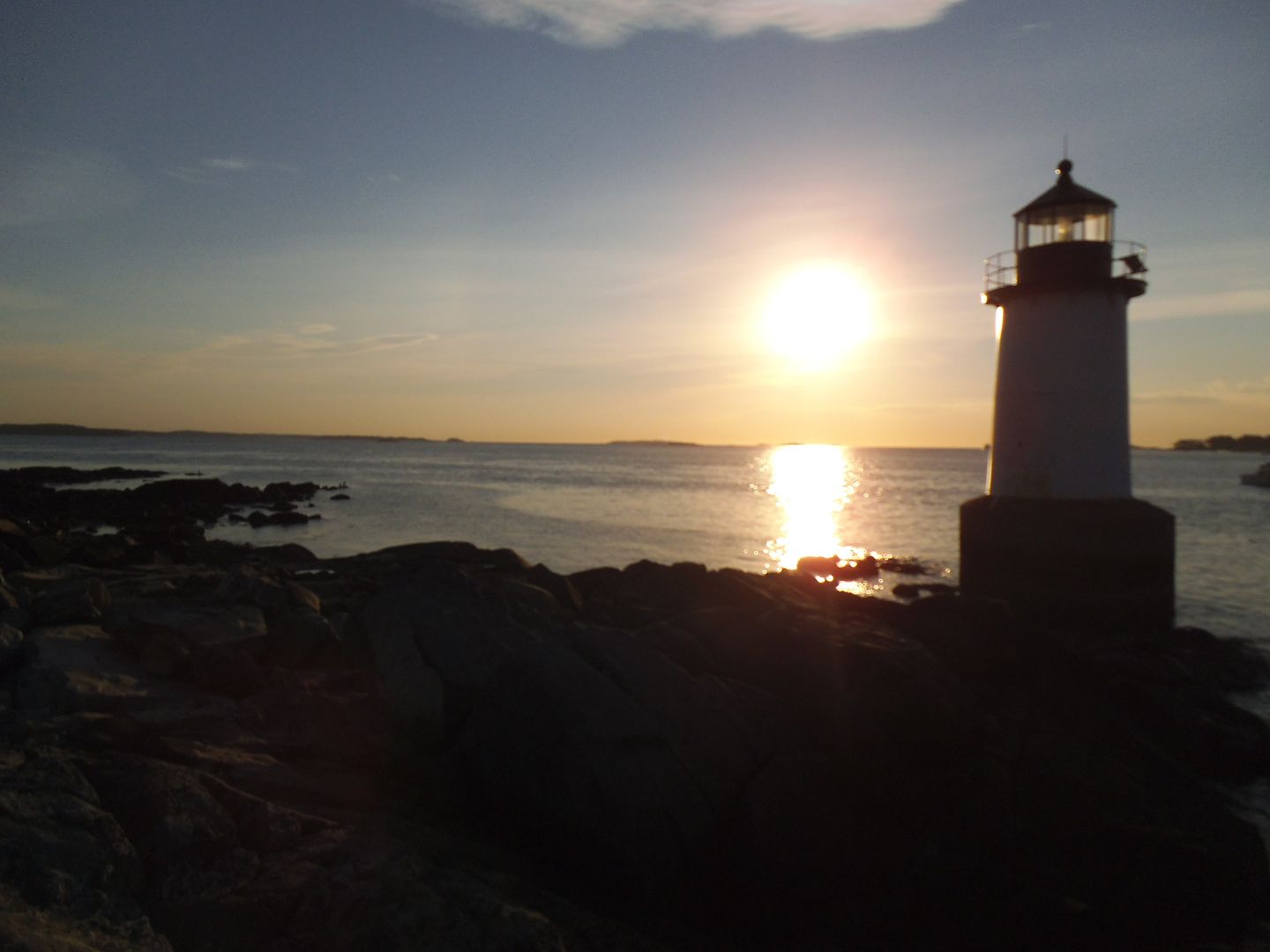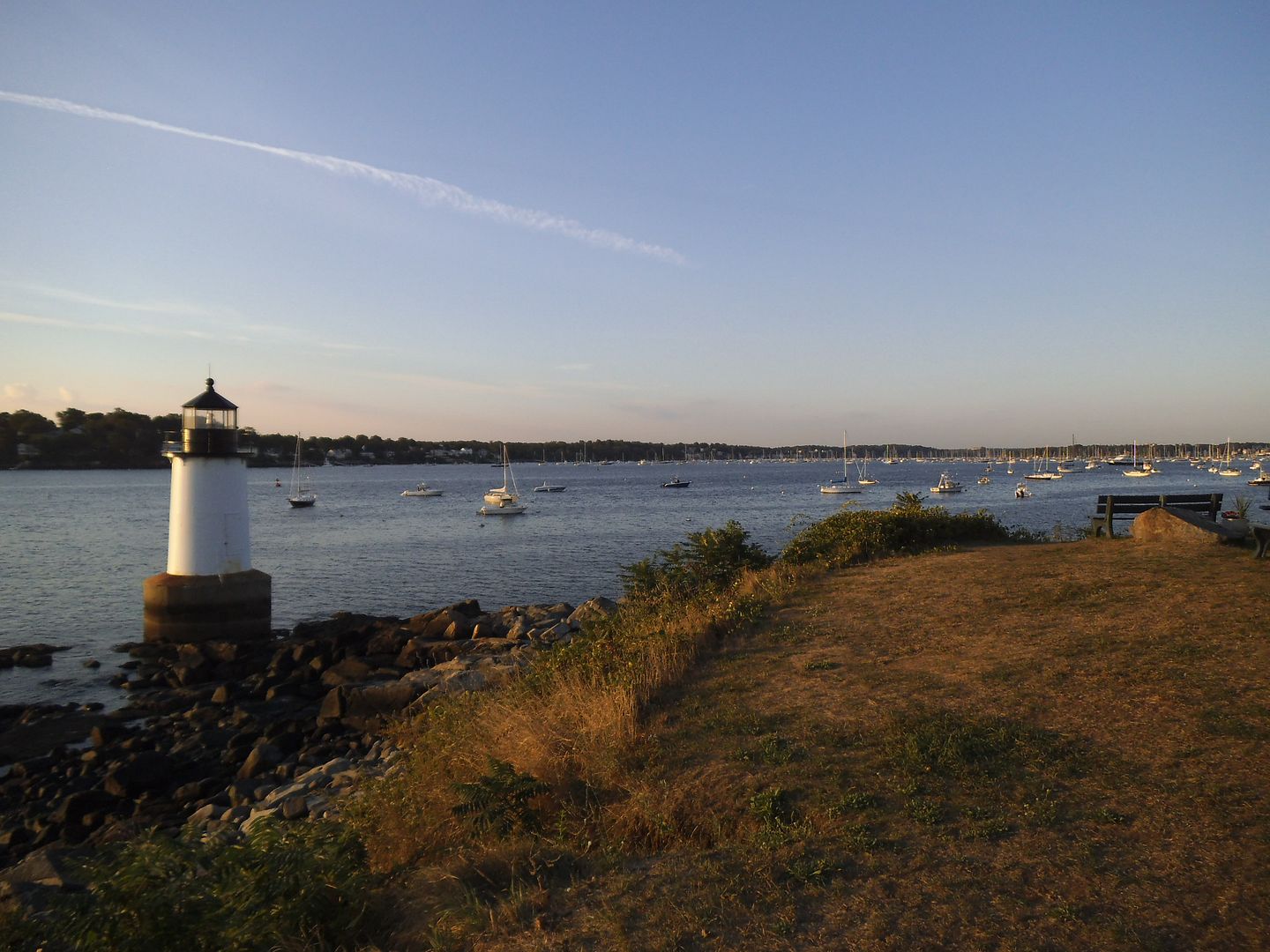 My campsite and home while in Salem: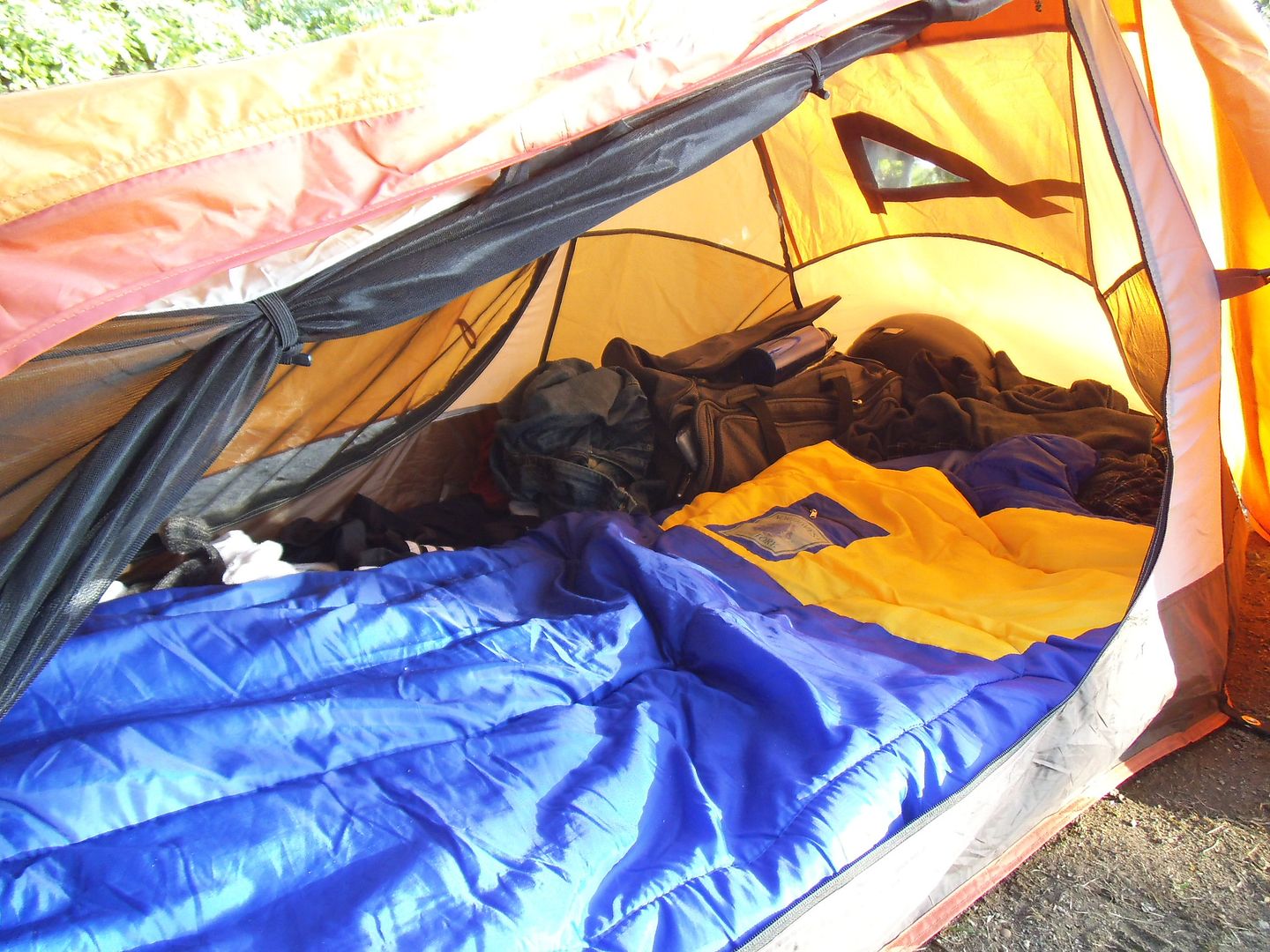 That morning I walked into downtown Salem and spent the day exploring the streets and historic homes. I won't bore you with the many pictures I took of old houses but will just show this typical streetscape. Great restaurants were everywhere and the locals with their thick 'Bwoston' accents were a lot of fun to talk with and very friendly for the most part.
I did not venture out of Salem except for a quick ride to Walden Pond where author Henry David Thoreau, a favorite of mine, built a small cabin in the woods to "live simply for a year". The pond is fed by a natural deep spring so drops off nearly immediately from shore and was believed for many years by the locals to be bottomless. Arriving just before dark the park was nearly deserted. I stripped down (read: forgot my swimsuit
) then ran into the pond and swam alone just as Thoreau had done 150 years earlier. Swimming in Walden pond as the sun set was the highpoint of my trip.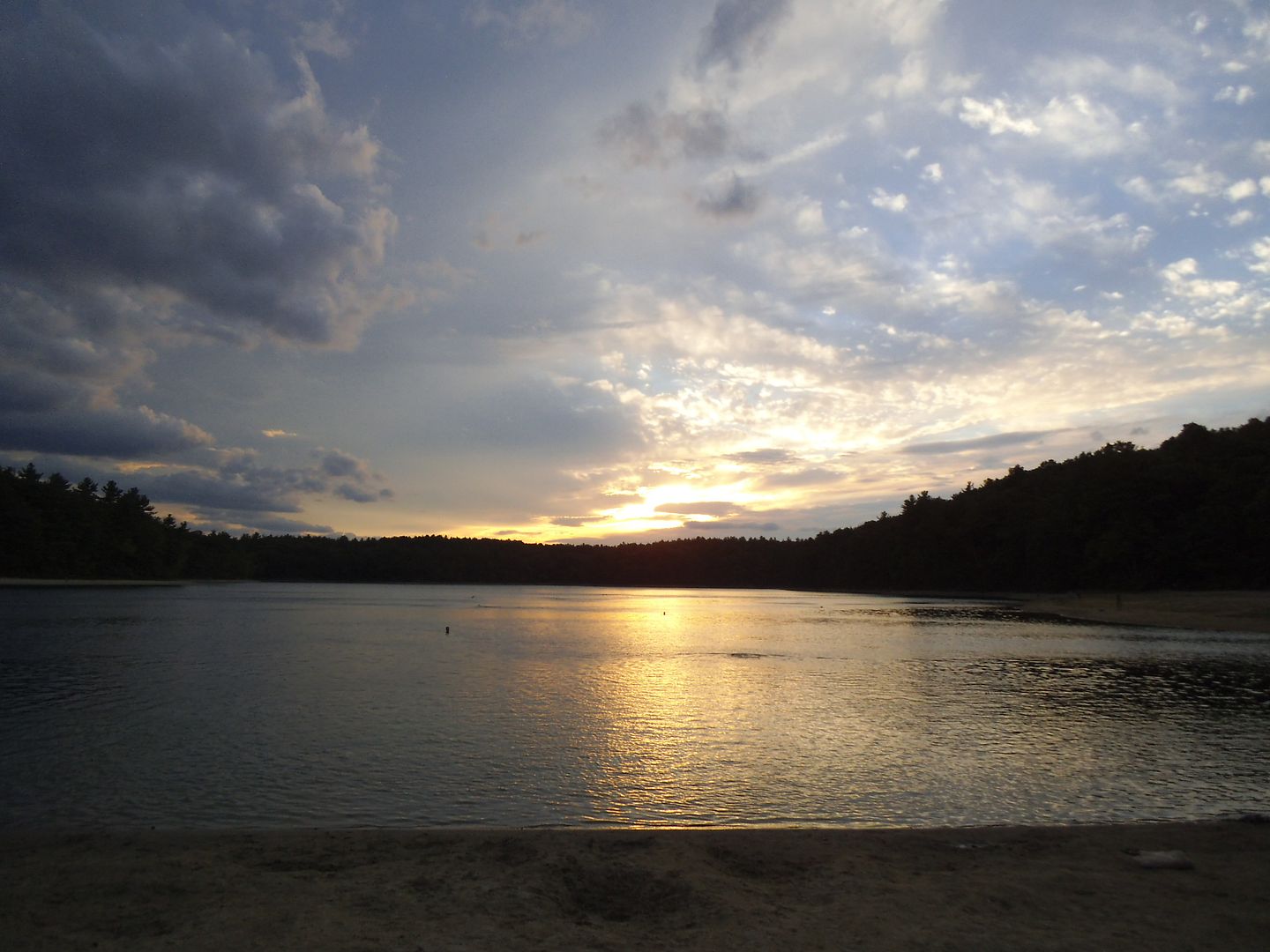 When I got back to Salem that night a strange new metallic chirping noise was present under the left side engine cover. The next morning in the campground I disassembled that side of the engine but unfortunately could not find the source. After calling forum member Red we came to the conclusion it was likely the starter clutch going bad. Red immediately offered to drive the 1,100 miles out to pick me up (I am grateful to have a friend so willing to help out) but we ultimately made the decision I would try to make it home on the GT, leaving 1 day earlier for more time in case something happened.
I apologize for the lack of pictures but what follows became a mad dash for home. I made it 150 miles that night and stayed in Lee, MA just east of the NY border. The next morning I awoke early and was on the road by 8, telling my wife it would be impossible to make it home that night and would need to find a campsite in Pennsylvania. Though the chirping noise was always there the GT ran flawlessly and we were eating up the miles. Well, it did loose a baffle somewhere along the way but at least that meant I didn't hear the chirping sound anymore and could instead begin to enjoy the ride. The closer I got to home the more making it that night seemed possible. I stretched out the final fuel fill-ups to save a stop. We lived near Detroit for a time so I knew if I could just make it the 140 miles there, then I could make it home to Grand Rapids without filling up again, maybe. Truth be told in all my trips back and forth across Michigan that had worked out only once. I made it to Detroit. After a quick fill-up and coffee (it was getting very late) I was on my way to Grand Rapids. We hit reserve at 125 miles, 20 miles from home. I can make it! At 1am I coasted into my driveway on little more than fumes. That day the GT and I covered 850 miles in just 17 hours.
The Madbuffalo got me home... It always does.