I found this:
http://www.medial.se/suzuki/fork/index.html
Which has this pic: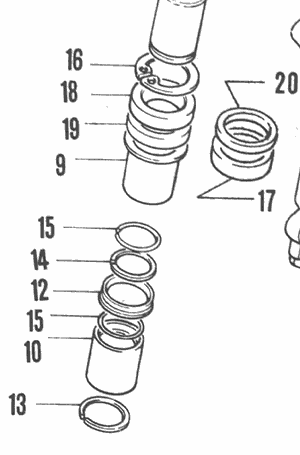 I'm asking about the orientation of parts # 10 & 12. Part #10 is fixed in position by parts # 13 & 15. Part # 12 slides back & forth to cover or expose the oil flow holes in the inner tube.
With the parts assembled as shown, part #12 can barely move.
With part # 10 flipped, part #12 can travel much further. But its easier to assemble as shown in the pic.
There isn't much oil volume in the gap between the inner tube & outer tube. Those oil flow holes restrict the flow into, & out of, that gap. So maybe part #12 only needs to barely move to control the damping.
So???