Taking a look at the gear indicator harness for restoration, you first need to test it if its a used one you obtained.
If you know its working then you can skip the test portion and go right on to the restoration.
For testing the display you will need a 12 volt supply, or a simple 9 volt battery can work to make things easy on the bench.
Touch the orange wire to the positive terminal of the 9 volt battery or DC 12 volt power source and the other wires in this order to the negative terminal, once you have removed them from the socket and marked their locations.
Orange and white/yellow # 1st gear
Orange and red/brown # 2nd gear
Orange and green/Blue # 3rd gear
Orange and yellow/ blue # 4th gear
Orange and brown/red # 5th gear
To remove the terminals you need to press down on the little tang on each terminal and push the pins out of the white connector towards the wire side.
Usually the sheathing is hard and broken so you will need to replace it, but remember to add about an inch more as it shrinks when it hardens.
Clean the wires, socket and unit of old dirt with a product such as Simple Green and blow it off with compressed air. Don't worry about wetting it, the units have all the connections sealed in the display so you wont destroy it.
You will also need to dip the terminals in vinegar and scrub the ends with a soft brass brush to clean them up.
Make sure to bend the tangs back up by sliding an exacto blade under them.
Once its all finished your unit should look like these ones shown here which are for the 75-76 models. The 74-75 had a slightly different style of display unit as did the 77 model.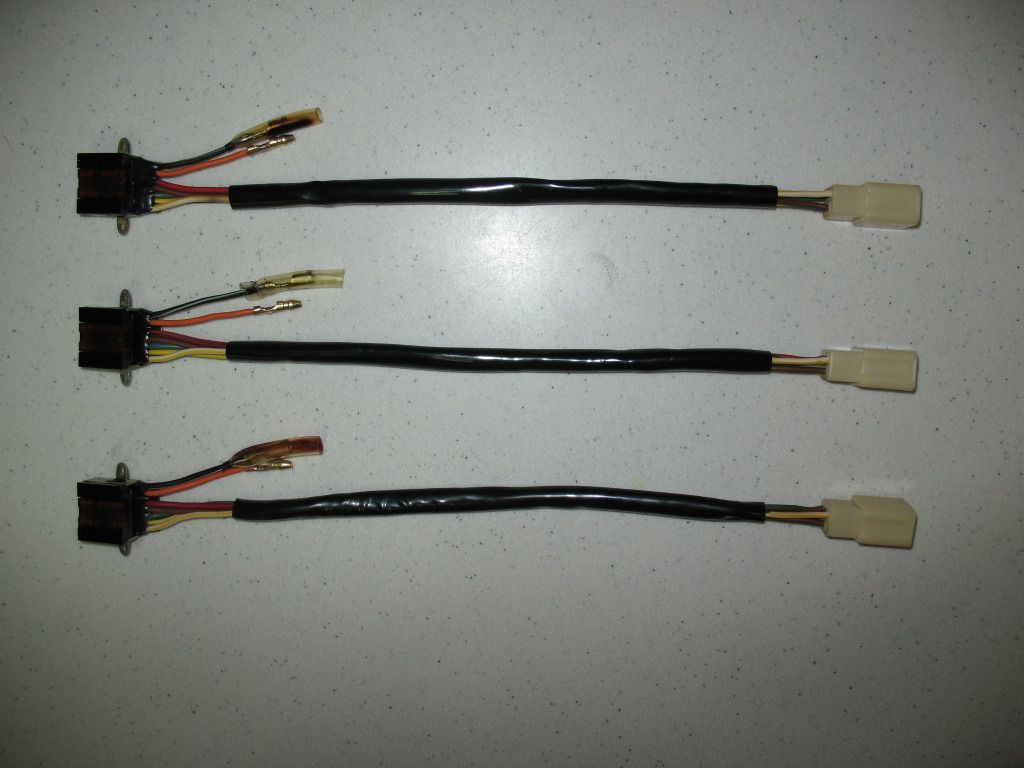 Three 75-76 gear indicator displays now tested, cleaned and ready for use.
Three types of unrestored gear display units shown here, from left to right: the 74 to early 75, the late 75 to mid 76 and the very late 76 to 77
Surprisingly the middle unit seems to be the most durable, both the 74 and 77 types have a high failure rate on the segments of the '8'.