As Tinypic folded and removed all the previous photo's, here's a recap of how it all started...............
A Suzuki TDRGV?
well Suzuki never built one, so I thought, why not?
Having spent a long time looking for a suitable donor bike, I snapped up this ebay bargain.........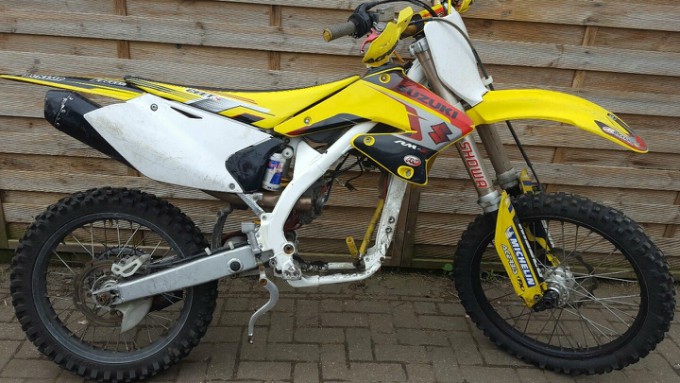 ........a 2005 Suzuki RMZ250 motocrosser, complete bar it's (4-stroke) motor. Once home, I stripped it down and proceeded to sell-off all the parts that I don't need (most of the bike, actually!) For this project I only need the frame, swing arm, shock and linkages and the front forks. So the wheels (with Talon hubs), the carb and other sundry items have found new homes, which has helped to recoup almost all of the purchase price of the rolling chassis.
My original intention was to fit a parallel-twin motor from an RG250, so as to mimick the original TDR250, but knowing how crap these motors are, I decided to use one of the RGV250 motors I have in stock.
First job was to decide how to fit the RGV motor into the RMZ frame. And this is how to do it........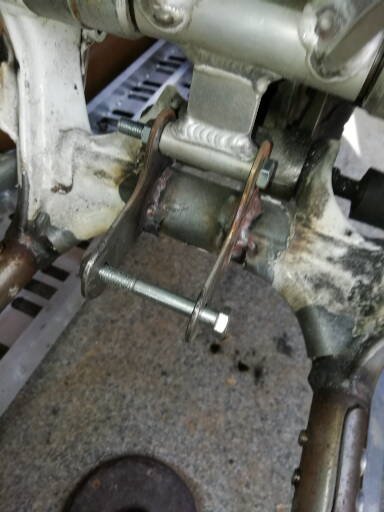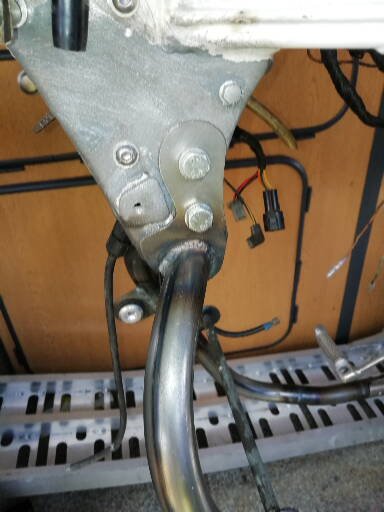 the RMZ's front down tube and engine cradle were removed and a new, removable cradle constructed around a "mule" RGV250 motor so we could get all the dimensions right. A new upper and lower rear engine mounting bracket was also fabricated.
A pair of 17" Suzuki Goose wheels were fitted - the rear had to have 9mm shaved off the sprocket mounting flanges and the left side bearing recessed by 4mm to get it to fit.
The get the spoke pattern of the front wheel to match the rear, the fork legs had to swap sides, as the RMZ has it's front caliper on the left side, and the Goose on the right.
A new caliper bracket was fabricated and welded in place, supporting a 4 piston Brembo Gold Line caliper which in turn bites on a custom one-off front disc, made for me by ISR.