M Unit installation part 1
The M button is the tiny cylindrical gizmo with the coloured label on.
To the left of that is a 6-way connector (only 4 in use at the moment) that connects the l/h handlebar switches to the M Unit.
They are:- lights, horn, left indicator and right indicator.
To the right of the button is a 3-way connector (only 1 in use so far) that connects the r/h switch.
The spliced black wire is 1 from the front brake switch and 1 from the rear brake switch.
All these signals connect to the M Unit via the thin green cable.
The blue cable is for the starter button (redundant on this build).
The black cable is an earth connection.
Simples.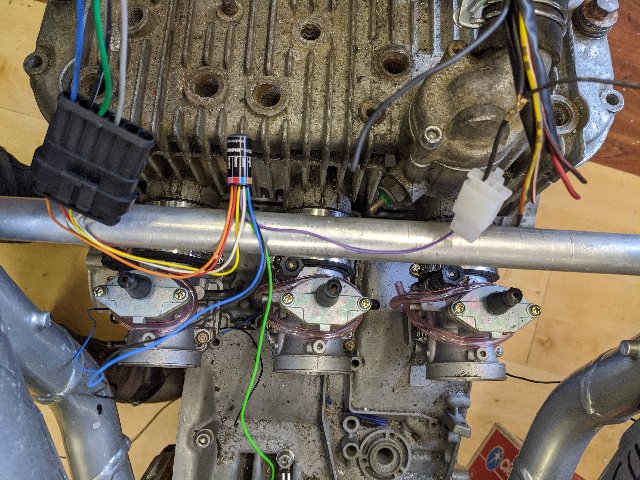 Here it is with all the earth wires connected too and sheathed in plastic.
The redundant T595 harness has a lovely earth cable that runs from the battery and then splits into 10 different feeds -
absolutely ideal for this installation as the wire sizes are just right and have the absolute minimum of connections.