To the on ramp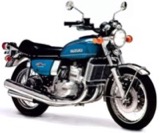 Joined: Mon Oct 24, 2016 12:35 pm
Posts: 235
Location: Macon, GA
Country:
Suzuki 2-Strokes:
Yes, know him and have bought from him. Straight shooter and his prices are fair. Buy with confidence from him. He is a 2 stroke enthusiast.

_________________
1976 Suzuki GT750 (Maui Blue), 1972 Kawasaki H2 750 Mach IV (Candytone Blue), 1984 Yamaha RZ350 (KRR- Yellow/ Black).