i know its a honda but at least its a 2-stroke.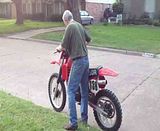 buddy got it , estate sale. not running.
but a spash of fresh gas,new plug and a carb clean , and started on second kick.
i give him a month before he hurts himself .
i see a resale bargin in the near future.
(its a video)
cheers mark